________
Fun and functional, homogenous resilient comes in tile or roll
forms with a variety of colors to choose from. Its uniform
composition allows the color of the tile to never fade
throughout its lifespan. It is an affordable floor covering
whose cushioned core makes it more comfortable for the
feet and legs. This same cushioning property keeps
the floor surface warmer to the touch owing to the
insulating value it gives.
It is suitable for homes, offices,
commercial establishments and
environments which require sanitary
surroundings because of its
antibacterial qualities.
Rollform
Clean. Seamless. Superior Performance.
Suitable for homes, offices, commecrial establishments and
environments which requires sanitary surroundings.
Available in 5ft x 45ft at 1.5mm and 2mm thickness
Can be welded at the seams and coved up at the edges of walls for
extra cleanliness, and for a neat and seamless installation.
Apo Antibac
APO ANTIBAC limits the spread and destructive power of
many microorganisms in homes
and commercial settings.
What is Apo Antibac
APO ANTIBAC is incorporated with ANTI-BACTERIAL and
ANTI-FUNGAL protection in the molecular structure of
the floorings which neutralizes germs and fungi on flooring
day-after-day, year-after-year providing an added level of hygiene and
safety to things we come in contact with everyday
APO ANTIBAC is safe, effective and durable. Its ingredients are
registered and approved by regulatory agencies
such as EPA (Environmental Protection Agency) in the US.
Benefits of using APO Antibac
Limits the spread of harmful microorganisms
Prevents development of odor
Prevents staining and discoloration
Prevents loss of properties (e.g. hardening)
Prevents biofilm formation
Prevents cross-contamination
How does it work?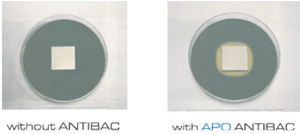 APO Antibac interferes with the transport of nutrients to the
bacterial cells causing the
bacterial cells to starve and eventually die.
This mechanism prevents the bacteria from
developing resistance to APO Antibac
Anti-Static
Static electricity is a common cause of damage to electrical
appliances and facilities. Anti-Static flooring is best used for
Call Centers/BPO's, Hospitals and Health Facilities,
Production or Plant Facilities.
APO Floors is the first and only local manufacturer with the Anti-Static feature. Now the safety of your electrical investments can be assured.
Compliant to international standards ASTM F150 and ESADA/ANSI S20.20.
Best used with APO Powerbond & Apo Floor Care line, also with Anti-Static properties*
*for special production